San Diego Oceanside Garage Door Repair Services
New Garage Doors & Garage Openers Installations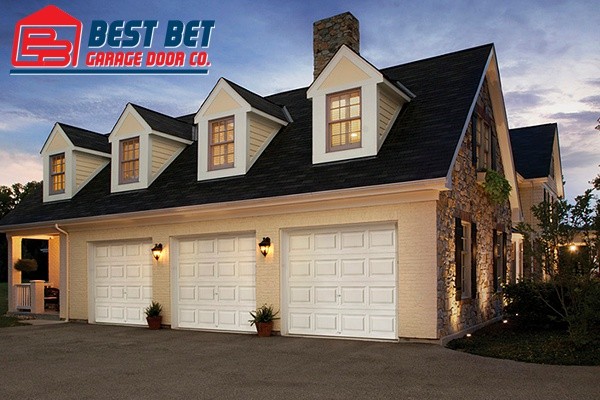 Best Bet Oceanside Garage Door Repair Company is dedicated to serving the San Diego and Orange County areas with the best residential garage door repair and installation service possible.
We have a repair and installation service teams near you and offer expert garage door repairs and installations.
Best Bet is a family-owned company and considered the #1 Garage Door Company in San Diego California. We strive to provide our customers with outstanding customer service, fast response times and affordable prices. We earn 5-star reviews from every job.
We treat every customer like family. We deliver the utmost care and professional courtesy. That's how we've grown our business from San Diego County into Orange County: by working very hard to deliver our community the highest quality service possible.
We strive to get the job done right the first time. We thank all of our customers who  took valuable time to leave us reviews. Best Bet will always be there for you when you need garage door repair and new installations.
We're always just a phone call away, check out our Google Local Places page reviews, we are the garage door service near me team.
Quality service and product.  The owner actually came to our home to ensure timely and professional work.  I highly recommend this company and Caleb Wards stellar service. They are truly the Best Garage Door Repair Oceanside specialists around!
Our garage door was broken and we needed it fixed right away. Our first call was to Best Bet Garage Door Co., found on Yelp. Caleb came promptly, within one hour of our phone call. Takes pride in his job and was done perfectly. Cost very reasonable. On top of it all, Caleb is a very nice young man, enthusiast about his new business. My husband and I recommend Best Bet Garage Door Co. without reservation.
I just want to say that Caleb the owner of Best Bet Garage Co did an awesome job with our garage door. I did not find him here on Yelp. I actually found him on google. I called almost 3:30 this afternoon and he got here almost 4pm. Now what company can get here that fast?

I would refer him to everyone who needs their garage fixed. He takes pride in his work and does it perfectly. On top of his work performance his price is very reasonable. He really knows his stuff. Thank you so much Caleb. Their are not a lot of companies out there like this one. God speed Caleb. Your hard work is paying off. God bless.
Wow I'm so impressed with this company. Caleb came out to my house and walked me through what was wrong with my garage. He told me what I needed to do to make my garage safe. He was so friendly and personable he even got along with my dog. He really made me feel comfortable with everything he explained and wasn't trying to sell me more than what I needed.

Before I called Best Bet Garage Door Company I had another company come out and not only was the office staff rude but the tech right off the bat started telling me my garage was in awful shape and I got the feeling he was just trying to sell me everything they offered. Not to mention their pricing was almost double what I paid with Best Bet Garage Door Company.

If anyone is looking for an honest garage door company I highly recommend Best Bet. He's honest and supper friendly and you can't beat his pricing!!
Professional Garage Door Service
Oceanside Garage Door Repair & New Garage Door Installations
Best Bet Garage Door Company offers certified technicians for all popular makes and model brands. We have garage repair technicians all over San Diego and Orange County areas who can handle any replacement, repairs, and troubleshooting. We'll get your garage doors working like new again.
We can also deliver manufacturer approved and recommended replacement parts. All of our work strictly adheres to specifications set by the manufacturer. All repair work is 100% guaranteed by our company.
Professional Garage Door Service
New Garage Door Installations
Custom Garage Door Installations
Spring Repair Services
Garage Door Replacement
Garage Door Panel Replacement
Garage Opener Installation
Garage Opener & Tune Up Service
Annual Garage Door Maintenance Service
Oceanside Garage Door Repair for San Diego & Orange County Ca Counties
CALL: 1-877-619-3667
Best Bet Garage Door Repair Near Me Service Areas
Best Bet Garage Door Blog & Reviews
Garage Door Safety Tips That You Should Know! The Most Important Things You Should Know About Garage Door Safety How to Avoid Dangerous Situations With Your Garage Are you aware that your garage door might pose a significant risk to your safety? You will be need to make the appropriate preparations in order to avoid getting into any dangerous circumstances. We have ten safety suggestions
Does a New Garage Door Increase the Value of Your Home? How A New Garage Door Adds Value To Your Home A new garage door can add value to your home in a number of ways. It can improve curb appeal, increase security, make your home more energy-efficient, and increases the overall value of a home. Contact Best Bet Garage Door Company to learn more
What You Should Do If Your Garage Door Won't Close If you are having trouble closing your garage door, try some of the following solutions: Try to pinpoint the nature of the issue. It is possible that the garage door opener has to be replaced if it is not functioning properly. It is possible that the sensors will need to be moved if they are